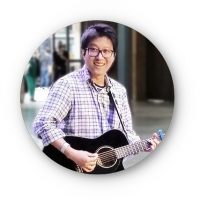 Il-Woong SEO is South-Korean composer, singer/songwriter and electronic/pop music producer.
He leads pop music band project Multiphonix with his brother Young woong SEO and they're recording their 5th studio album from 2022.
Besides Multiphonix, he composes abstract classical music/electroacoustic music and melodic piano music regularly.
He studied contemporary classical composition at the conservatories in France and resides in Paris, France.
Multiphonix is my main music project which is a pop band with my brother Young woong SEO. We are doing albums/singles and live performance. Our musics are available on the major online music stores.
NANO is one of my side projects for abstract electronic music composition and sound design. The album and singles are available on the major online music stores.
Following my study of contemporary classical composition, I also compose contemporary classical music. Here's the audio videos with scores and live performances :
I write also for many piano musics of easy listening and film music stlye. You can find its sheet musics and records on my page on the www.musescore.com (Better audio quality on the Desktop).